Auto Glass Repair in North Charleston
4975 Dorchester Rd.
North Charleston, SC 29418
Phone: 843-552-5520
Toll Free: 888-727-5520
Fax: 843-552-3856
Toll Free Fax: 888-828-3856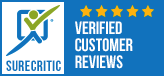 Welcome to Glasspro. We are a full-service auto glass repair facility in North Charleston, SC. We make auto glass repair and windshield replacements easy by providing in-shop or mobile services and can repair your auto glass while you're at home or work. Click here for map.
Our service area includes, but is not limited to:
Charleston, Cannonborough, Dorchester, Elliotborough, Hollywood, Meggett, Radcliffeborough, Ravenel, West Ashley
Monday - Friday 8:00 am to 5:00 pm and Saturdays 9:00 am to 3:00 pm.
For after hours service, call (800) 279-3893.
Email Us: NorthCharleston@glasspro.net